First-Time Homebuyer Loan Programs & Resources
Finding and choosing your first home is an exciting time. Ameris Bank is proud to offer loan programs that can help make your homebuying dreams a reality, and we'll guide you through the process each step of the way. We've curated some helpful information and resources below to help prepare you for the homebuying process.*
Low or no down payment

Financial assistance may be available

Gifts can cover some costs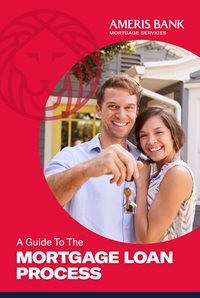 Download our free Homebuyer Guide
Designed for first-time homebuyers like you, our Homebuyer Guide provides information on mortgage programs and the documents you'll need to apply and answers to common questions. It even allows you to compare notes on homes you visit during the homebuying process.
In addition to our homebuyer guide, Fannie Mae and Freddie Mac offer homebuying education courses and additional resources to help prepare you for homeownership.
LOANS OPTIONS
Loans for first-time homebuyers with limited funds for a down payment
Up to 100% financing for eligible first-time homebuyers
No mortgage insurance required
Borrower must contribute minimum of $500
Ameris Bank offers the Ameris Dream loan which provides up to 100% financing for first time homebuyers with no mortgage insurance requirement. This loan allows gift funds to assist with down payment and closing costs, but the borrower must contribute at least $500. Income and location restrictions apply. Contact an Ameris Bank mortgage banker for details.
A mortgage with variable interest rates which may be a good option if you plan to stay in the home for a short period of time. Learn More
As little as 3% down payment (all can be gifted)
Mortgage insurance required
One-unit primary residence
Lending for purchases in rural areas where you can borrow up to 100% of the value of the new home. Learn More
YOUR SUCCESS IS OUR JOB
We're here to help every step of the way.
* All loans are subject to credit approval.
Ameris Bank is a full-service financial institution serving customers in the Southeast and Mid-Atlantic, with locations in Alabama, Florida, Georgia, Maryland, North Carolina, South Carolina, Tennessee and Virginia.