A FUTURE BUILT ON A STRONG LEGACY
Ameris Bank opened its doors as American Banking company on October 1, 1971. What started as one location, with $1 million in capital in Moultrie, Georgia, has now evolved into a publicly traded bank headquartered in Atlanta, Georgia.
Our founding father, Eugene M. Vereen, Jr., envisioned a bank for the future. He and other board members set out to create a collective mindset that doesn't rely on tired banking norms or cookie-cutter solutions. Rather, they set the foundation for a bank that looks beyond tradition to create solid, innovative solutions.
A half-century later, Ameris Bank leaders and employees continue to build on this legacy by providing advanced products and services led by an industrious spirit — all with the purpose of improving the lives of our customers and enriching our communities.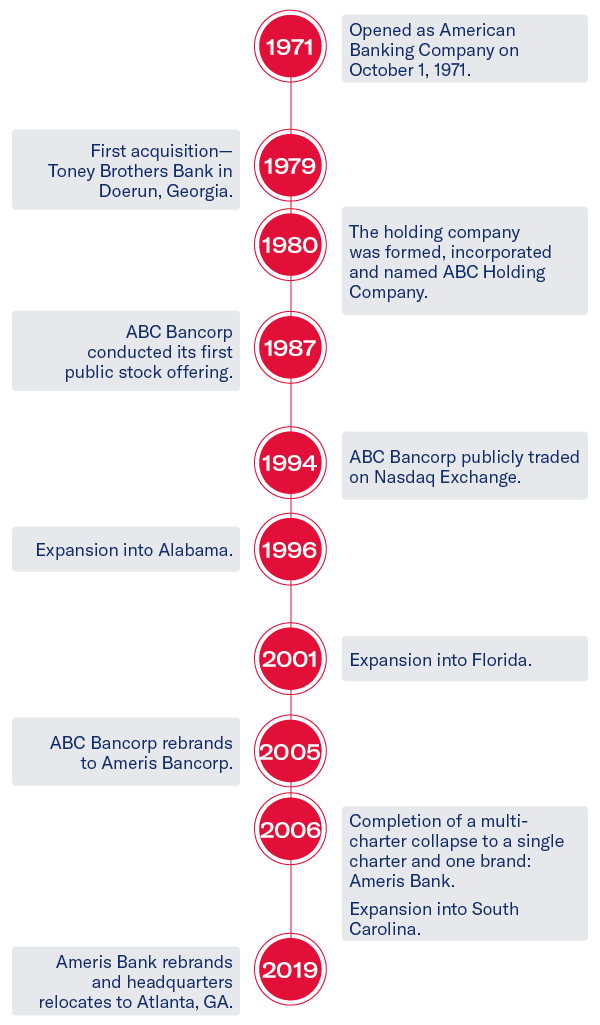 WE ARE LIONHEARTED
In November 2019, we rebranded and launched a new logo – with our lion.
The lion is a symbol of our strength and courage; our pride and fierce determination. It is a representation of taking bold steps and diverging from the pack. Being different requires courage. Seeing past decades of tired banking norms for a better way takes determination.
Our lion perfectly represents who we have always been and who we will continue to be — a bold bank that isn't afraid to break through convention to get things done right.