Considering making the switch? You've come to the right place. Switching your current account to us is now faster and more convenient than ever - and can be completed online. We're committed to helping you switch banks seamlessly and will be with you every step of the transition process.
This simple 3-step guide will help you tie up any loose ends and help ease your transition to Ameris Bank.

Easy as 1, 2, 3
Switching Your Business Account
Grow without the growing pains. Our implementation team will focus on helping you make the transition so that you can focus on your business.
Switching Your Personal Account
When switching from another bank, start by reviewing your old account statements and bill payment history online for automatic withdrawals or payments such as car payments, insurance, or memberships.
Complete our simple direct deposit form and provide to your payroll office.
Our personal bankers are ready to help, and a special welcome guide is available to you any time.
After you've set up your new accounts with Ameris Bank, leave your old account active long enough to allow outstanding checks or automatic withdrawals to clear. This process may take several weeks.
Once you're sure your old account is inactive, ask your previous financial institution to close it and send you the balance(s). After that, you can destroy your old checks, cards and deposit slips.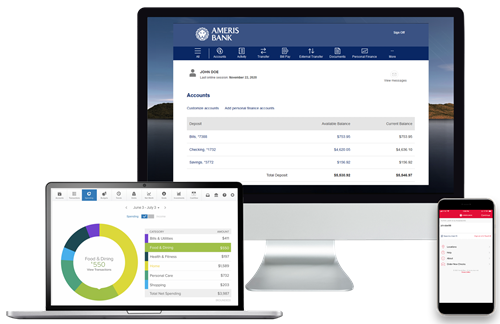 CONVENIENT BANKING TOOLS
We've simplified banking to give you more control over how you manage your money and your cards.
Why Should You Bank With Ameris Bank?
A Customized Banking Experience
At Ameris Bank you aren't just a number, you are our neighbor. We focus on YOU and work to understand who you are, what you need, and how we can help you get it. Whether you prefer to bank on-the-go or in the branch, we provide a banking experience that complements your lifestyle!
An Accessible Banking Team
At Ameris Bank you'll receive personal service with direct access to your banker. We go out of our way to get things done for you. That means we find creative solutions for your banking needs and make decisions locally, empowering bankers to get you what you need, when you need it.
A Strong, Stable Partner
Our bankers have many years of experience and are dedicated to exceptional customer service. Bank on-the-go and receive great solutions from the palm of your hand or visit a location to see familiar, friendly faces from your neighborhood.