Merchant Card Services
From accepting payments and managing inventory to keeping track of your customers, our Merchant Services are designed to simplify your merchant accounts receivable operations and help your business grow. Whether your credit card or other payment processing needs are in-store, online, mobile, or a customized combination, we have the solutions to meet your needs.
Accept virtually all card types

In-store and mobile options

Manage inventory

Keep tabs on customers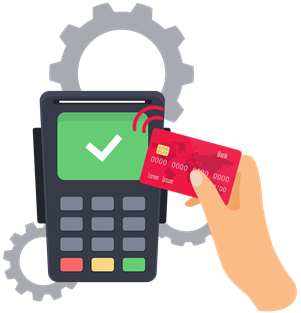 Payment Processing Solutions To Achieve Your Business Needs
Reduce costs. Improve customer service. Provide a range of payment solutions. All are achieved with Ameris Bank's partnership with a worldwide leader in payment solutions, Clover®. In addition to being able to say "yes" to almost any type of card, your business will benefit from competitive pricing, cutting-edge technology, transaction security, and flexible billing.
Merchant Services Benefits
Credit cards
PIN or signature debit cards
Checks
Gift cards
Electronic check processing
EMV/Smart Chip cards
Additional details on payment types accepted
Our Clover® Station provides the advantage of leading-edge hardware and software. You can choose from a wide variety of components to meet the unique needs of your business.
Accept a variety of payment types such as Apple Pay® and EMV Cards
Protect customers' card information with multi-layered security
Track inventory
Manage employees
Measure and drive customer loyalty
Create mobile marketing programs
Turn sales data into usable information
Access information anytime, anywhere
Clover® Mobile: A sophisticated portable business system that runs on cloud-based software and comes with a barcode scanner and camera.
Clover® Go: Make all transactions easy and convenient. Accept credit and debit cards, including secure EMV chip cards, anywhere you have a Wi-Fi or cellular connection.
Clover® Online Store: Grow sales by creating a smart, simple online store that makes it easy for your customers to shop from any device.
YOUR SUCCESS IS OUR JOB
We're here to help every step of the way.
The Clover name and logo are trademarks owned by Clover Network, LLC., and registered or used in the U.S. and many foreign countries. All trademarks, service marks and trade names referenced in this material are the property of their respective owners.

Ameris Bank is a financial institution serving customers across the Southeast and Mid-Atlantic. Customers can benefit from Ameris Bank products and services through online account opening. Ameris Bank has full-service locations in Alabama, Florida, Georgia, North Carolina, and South Carolina and mortgage-only locations in Alabama, Georgia, Florida, South Carolina, North Carolina, Virginia, Maryland, and Tennessee.