We're With Your Business
Kathy Villafane, Broker and Business Owner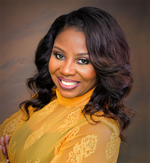 Named Rookie and Realtor of the Year by the Hinseville Board of Realtors, Kathy Villafane has achieved great success during her nineteen years in real estate. Since her career start, Kathy has expanded her brokerage business from a team of one to a team of ten, and when looking for a bank, she knew she needed a strong partner who could help manage her rapidly growing team.
"I've been with Ameris since 2015 and everyone at the branch feels like family. They take great pride in my success and in knowing that I trust them to help me make good financial decisions."
Kathy, an entrepreneur and mother, now helps her daughter run a business. "I have my personal and business checking accounts with Ameris Bank and when my daughter started her business, I knew I had to set her up with an Ameris account as well."
Previously a salon owner, Kathy is passionate about helping aspiring business owners and encourages them to get to know their bankers and become part of boards and committees in their communities. "Getting to know your banker and joining your local Chamber of Commerce is something everyone should do. Doing so allows you access to a realm of knowledge and support from like-minded individuals."
In keeping pace with the booming real-estate market in Hinesville, Ga., Kathy trusts Ameris Bank to assist with her financial questions. "Ameris Bank is the bank of Hinseville. The customer service is unmatched. When I walk in, I feel like the most important person in the room, and I know when I have a question, my banker will work with me to find a solution."
With plans to purchase commercial real estate and grow her brokerage team, Kathy is confident Ameris Bank will be with her every step of the way.
Deeper Purpose Kids Academy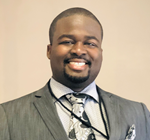 Deeper Purpose Kids Academy is on a mission to help parents and their children reach their full potential. When Pastor and Police Officer Adam Joy recognized an opportunity to further serve the High Springs, Fla., community, he opened a daycare that would provide quality child care to working parents.
Deeper Purpose Kids Academy first opened its doors in May 2020 when other schools and childcare facilities shut down amid the pandemic.
"We had families moving to the area and daycares were either closed or full. They could not get in. I thought we would start small, but we opened with thirty kids and kept growing. We now have one hundred kids and fifteen full-time staff," said Joy.
When looking for a bank, it was important for Joy to find a partner that was as invested in the community as he was. So, he turned to Ameris Bank to help set up his business's finances.
"At Ameris, everybody knows my name and my business, and they want to help," said Joy. "When Ameris Bank says they are with you, they do not just say it, they go above and beyond to take personal care of you."
"As a non-profit owner, it is essential to have a bank that offers the products and services I need to succeed. With Ameris Bank, I have access to a non-profit checking account, and I utilize merchant services like Clover to help make payments seamless for the families at Deeper Purpose Kids Academy."
The school hopes to expand in the coming years and has recently partnered with Ameris Bank to purchase fourteen acres of land to serve more families in the High Springs area.
Joy encourages new business owners to keep moving forward. "You only need one person rooting for you, and that's enough to get you started."
AB's Cleaning Services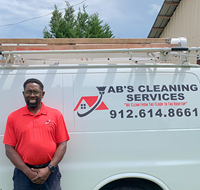 Allen Burris, owner of AB's Cleaning Services, comes from a long line of entrepreneurs. "My grandfather had a cleaning business, my father had a cleaning business, and now I'm the proud owner and founder of AB's Cleaning Services and AB's Chimney Cleaning Service, serving the greater Waycross area."
"As a small business owner, I wanted a partner that would give me the advice I needed to be successful," said Burris. "Ameris Bank has been perfect in guiding me between different equipment loans and helping me set up checking accounts. It is great to have the personal service Ameris provides, and I appreciate doing business with them."
When Allen is not running AB's Cleaning Services, he works as an engineer and aspires to earn his thirty years of service before transitioning to full-time business owner. "I have my personal and business accounts with Ameris, and I always trust the advice and feedback given by my bankers. When I finally make that switch, I know Ameris will be there to help."
Allen believes customer satisfaction is an integral part of company success and encourages business owners to make every effort to ensure their customers are happy. "It will amplify your business and broaden connections with new customers."
SJC VENTURES
A Commercial Real Estate & Retail Development Firm
AMERIPRO
Coming to the Rescue
GA FEDERAL-STATE INSPECTION SERVICE
A bushel of support
TWO MEN AND A TRUCK
Helping a franchise
THE EDMAT COMPANY
Making the grade
INTERMARK
Helping a property management company