Ameris Bank Celebrates Asian and Pacific Islander Teammates
May is Asian/Pacific American Heritage Month and we are proud to celebrate our Asian and Pacific Islander teammates! We asked them to share about their culture, and we are excited to spotlight traditional recipes, festivals and more!
Read about:
Compliance Specialist Jasmine Massis' Vietnamese iced coffee recipe
I am Vietnamese and want to share our traditional Vietnamese iced coffee recipe, also known as cà phê đá or cafe da. At its simplest, cà phê đá is made using medium to coarse ground dark roast Vietnamese-grown coffee with a small metal Vietnamese drip filter.
What you'll need:
2 tbsp dark-roast ground coffee (Café Du Monde Coffee)

2 tbsp sweetened condensed milk

coffee filter - heatproof glass/metal filter
Preparation:
There are two ways to make Vietnamese coffee. The simplest method is to steep coffee grounds in a heatproof container with 2/3 cup boiling water for four minutes. Pour through a coffee filter in to a heatproof glass. Or, use a metal filter, which we recommend. Bring 1 cup water to a boil. Remove top screen from filter, add coffee, then screw on top screen. Place filter over a heatproof 12-oz. glass or measuring cup.

Pour a splash of the hot water into filter as this will allow the coffee grounds to bloom. When coffee begins to drip through, add enough water to reach the top of the filter. Place lid on filter and let coffee drip for 4 minutes. If coffee stops dripping sooner, gently loosen screw to relieve pressure.

Stir in condensed milk until blended.

Add ice, stir and serve.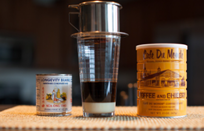 Commercial Banking Assistant Samantha Leitner shares information about her hometown in Thailand
Sawatdee! (that means "Hello, how are you?" in Thai)
I was born in Ubon Ratchathani, Thailand - Ubon (อุบลฯ) for short - in June 1969 during the Vietnam War, which was home to the Royal Thai Air Force base. Thailand is known around the world as "The Land of Beautiful Smiles," while Ubon Ratchathani means "Royal Lotus City." Ubon is 382 miles away from the more well-known southern capital city of Bangkok, 580 miles from Chiang Mai in the northwest, and 896 miles north of the popular tourist beaches of Phuket.
Ubon is well-known for its annual candle festival, Wan Khao Phansa, also called Buddhist Lent, and it is held in July to mark the beginning of the rainy season retreat for Buddhists. There is an interesting group of temples in and around the area between the river and Thung Si Muang Park that can be covered in one pedicab trip (cost about 250 baht).
I have my first "Going Home to Thailand" trip planned for 2022 to visit the city where I was born and travel the country extensively. I am so excited to be returning "home!" Namaste! (Namaste means "I bow to the light in you," which is traditionally accompanied by a bow from the hip or nod of the head with hands in prayer position. The lower the bow, the more respect it conveys.)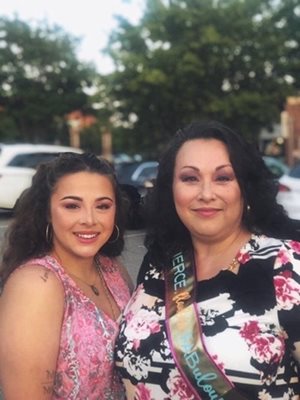 Trust Operations Assistant Kimiko Miller's description of Ikebana
When I was in college in Kyoto, Japan, I took Ikebana lessons for a few years. I was preparing to go to the United States for the first time, and I thought it would be good to learn Ikebana before going abroad in case Americans asked about this traditional Japanese art form. Ikebana is also called Kado, which means "way of flowers." The early flower arrangements appeared around the 8th century. They were simple design arrangements yet placed skillfully in vases or baskets to emphasis the space, depth and proportion of the flowers and the branches. One can learn such techniques at many schools, not only in Japan, but all over the world today. Fast forward to 25 years ago, I started doing flower arrangements again when I joined the flower guild at my church in Decatur, Georgia. I create and arrange a floral design according to the natural shape and curve of the materials. Over the years, I have come to love the beauty of the flowers, and they give me a creative outlet from the busy daily life.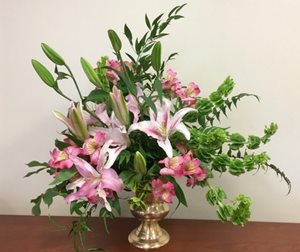 Commercial Loan Closing Specialist Nid Pradit's explanation of the traditional Thai New Year (Songkran)
Thailand, the country of about 69 million people, celebrates New Year's twice a year. Once on January 1 and again on April 13, which is the traditional Thai New Year (Songkran). Songkran Festival is a national holiday starting on April 12 to April 16. It is similar to our Thanksgiving holiday in the sense that most people will travel home to be with their families, making it one of the most traveled holidays in Thailand. In general, people start the day by visiting local temples for merit making to honor their ancestors. The uniqueness of Songkran festival is performing water pouring on Buddha statues. The idea is to purify and wash away one's sins and bad luck. The holiday is also known as water festival, and most streets are closed and used for water splashing (fighting). Anyone who is out on Songkran Day should expect to get soaked. This fun part of the festival is what I always looked forward when I was growing up in Thailand.

Branch Manager Heidi Roberts' lumpias (egg roll) recipe
The Archipelago of the Philippines consists of 7,641 islands (2000 are inhabited). There are 187 known dialects spoken with Tagalog as the primary language. English is the language used in schools and media (TV & radio). The Filipinos are known for their strong family values, traditions, respect for their elders, hospitality, hard work and religious adherence. Different influences from Asia, Europe and the United States grow the diverse population in the Philippines. Filipinos love to cook and they love music. You always know you are in a Filipino home because they will have frozen lumpias (egg roll) in their freezer – see recipe below!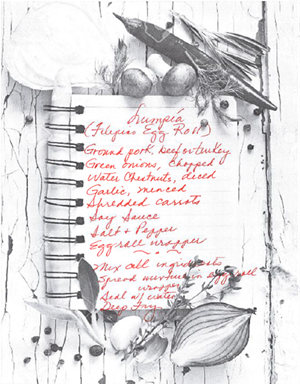 Mortgage Wholesale Account Rep Chip Mamiya's involvement with two cultural institutions, The Japanese American National Museum and The Go For Broke National Education Center
My father, Yoshio Buddy Mamiya, was one of the co-founders of two cultural institutions in Los Angeles, California: The Japanese American National Museum and The Go For Broke National Education Center. Both of these institutions share and display the rich cultural history of Japanese Americans in the United States.
The Japanese American National Museum is a national repository of Japanese American history, groundbreaking art exhibits and also speaks out when diversity, individual dignity and social justice are undermined. The museum is credited with being the first ethnic museum to become a Smithsonian affiliate.
The Go For Broke National Education Center focuses on the World War II internment of Japanese Americans and the story of the Segregated Army Units, 100th/442nd/MIS military units, which are the most highly decorated units for its size in the history of the Army. The story resonates true patriotism as many of these young soldiers volunteered for service while they themselves, and their families, were in internment camps even though most were US citizens.
Just like my father, I am involved with both organizations. I have served on the board of trustees for the Japanese American National Museum as well as a board of director for the Go For Broke National Education Center. Additionally, I am currently part of the Circle of Ambassadors of the Go For Broke National Education Center.