Gaines McKnight
Senior Mortgage Banker, NMLS #659462

3110 Fairview Park Dr, Falls Church, VA

703-282-4182

[email protected]
How can I help you achieve your goals?
Gaines is a reliable professional dedicated to providing excellent customer service. His clients can trust that they stay informed throughout the entire process and that he works hard to ensure there are no surprises at closing. His years of experience in the industry serves clients well in that they can rest-assured they are getting the right loan program for their needs.

Buying a home is one of the biggest purchases most of us make. House hunting can be exciting and disappointing at the same time. Some people find the perfect home in three days, for others, it can take months.

We've seen it all. And we understand how you feel. Once you finally find the perfect home, let us help you quickly find the perfect mortgage.
My Specialties:
Fixed Rate Mortgage
Adjustable Rate Mortgage
FHA Loan
Awards: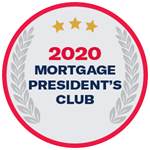 Our Customers Say it Best
"Clear, concise communications and instructions. Easy to reach at any time. Not a stone was unturned...every "i" dotted and every "t" crossed. Would highly recommend your team without an ounce of reservation to anyone."
- Gail B.
YOU'VE COME TO THE RIGHT PLACE
We're here to help every step of the way