Get the information you need.
Visit the Economic Impact Payments page at IRS.gov for more information on eligibility. Below is a summary snapshot based on the information shared by the IRS.
Individual tax filers with adjusted gross income up to $75,000 will receive the full payment of $1,200, plus $500 for each eligible child.
Married couples filing jointly with adjusted gross income up to $150,000 will receive the full payment of $2,400 plus $500 for each eligible child.
For filers with greater incomes, the payment amount is reduced by $5 for each $100 above the $75,000/$150,000 thresholds.
Social Security recipients, railroad retirees and those who are not required to file a tax return are also eligible.
Individual filers with income exceeding $99,000 and joint filers with income exceeding $198,000 are not eligible.
The Department of the Treasury intends to send the payments out as soon as possible. If you filed taxes in 2018 or 2019 and included your bank routing and account number for payments or refunds, and this information has not changed, the IRS has the information it needs to send your payment electronically. This could be as soon as the middle of April, according to Treasury. In addition, for Social Security recipients, the IRS will use direct deposit by the Social Security Administration to facilitate payments. If the direct deposit information you have provided in the past is for a bank-issued prepaid debit card, you will receive your funds on that card account. Recipients will be mailed a check if the IRS does not have your information on file. Check payments will follow weeks or possibly months after the direct deposits are sent.
Ameris Bank's routing number is 061201754. The bank routing number is on the lower left-hand side of the check and tells the US Treasury the correct bank to send the payment. Your individual account number is to the right of the routing number.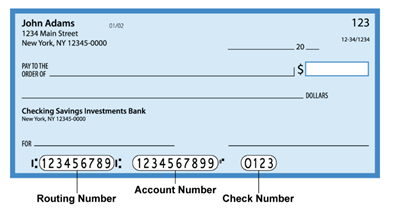 If you receive a suspicious email or text message, don't respond, click on links, or open attachments. Please know that we won't ask for confidential information — such as your card PIN, access code or online banking password — if we reach out to you.
This IRS April 2, 2020, news release offers more details about scams related to government relief checks.
The information provided above summarizes the guidance provided by the US Treasury and Internal Revenue Service (IRS) and is not intended to be complete. For additional guidance and precise instruction, reference the IRS website, IRS.gov, regarding Economic Impact Payments.